Multiplying the Power of Digital Investigations
San Francisco Bay Area-based MicroForensics offers the fastest and most scalable technology for the collection of electronically stored information available. Founded by Jaime and Philip Florence in 2001, the company has since focused on providing quality computer forensics software that has been used in civil and criminal investigations worldwide, and currently supplies technology to numerous global leaders in the electronic discovery and computer forensics industries.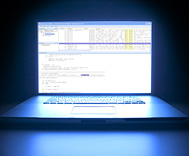 MicroForensics provides investigators the finest tools to examine more cases, faster.

Our tools multiply your investigative manpower and leverage modern hardware—all to shatter workflow bottlenecks.


We listen to the needs of law enforcement officials both from the U.S. and abroad
We bring experience built from hundreds of hours aiding computer-based investigations
Combined 50+ years constructing software tools for consumers and industry
Our tools let you process more evidence in less time with better results
See how MicroForensics's products can help your investigations.
Or contact us for more information.